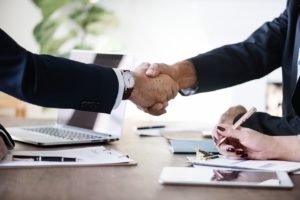 Not sure if you want to work with an expert recruiter? First, let's explore why companies partner with Healthcare recruiting firms to fill their positions. Healthcare companies look to hire an expert recruiter that specializes in hiring healthcare professionals. By specializing in the industry, the chances of retaining the right candidate increases.
Here at KTE, we value both our candidates and our customers. We take away the difficult task of sourcing, communicating and vetting candidates. Our primary goal is to build strong relationships with our candidates to ensure we find them the right job opportunity. We are the bridge that connects you with the hiring company.
Below you will find the top reasons why employers partner with specialized healthcare recruiters.
Vetting
Customers hire recruiters because they take their time to vet and screen interested candidates. With a robust vetting process, it narrows the possibility of choosing the right fit for the company; therefore, being creative and proactive in sourcing qualified and professional candidates.
Resources
Healthcare recruiting firms use specialized resources to help the customer connect with the right candidate. For example, resources like dedicated recruiting efforts, social media, previous contacts, referrals, and leads.
Service
Excellent customer service is crucial, communicating, updating, following up and keeping the timeframe in mind is always vital. Customers partner with Healthcare recruiting firms that are on top of their open requisitions.
Retention
The high demand for retaining an employee is important and necessary. Customers look to work with healthcare recruiting firms to increase their quality of hire; therefore it is important to find qualified candidates for every position, increasing the chances of retention.
In summary, just like companies look to partner with specialized healthcare recruiters, so should you. Keep us in mind If you need recruiting assistance, speak with our professional recruiters and let's work together. Contact us today; you can reach us at 904-940-5415 or ktemedicaljobs.com. We are looking forward to hearing from you.
How's your experience working with healthcare recruiters?